FTM Top Surgery: Risks and Results
You'll be glad to hear that breast reduction performed by an experienced, board certified plastic surgeon like Dr. Elliot Jacobs is typically very safe. Whether Dr. Jacobs operates on a woman with heavy, pendulous breasts, performs gynecomastia surgery for a male patient or reduces breasts as part of transsexual surgery, there are few risks involved.
You will need to learn about the possible risks, however, for two reasons. First, it's important that you make the decision to go ahead with FTM top surgery knowing the possible tradeoffs. Also, you'll need to be alert for complications during recovery just in case.
Dr. Jacobs will help with this. During your consultation, he will ensure you understand the results you can realistically expect along with complications that may occur and possible downsides of top surgery. Having performed breast surgery for both men and women for more than 30 years, he is very well positioned to anticipate various outcomes, and he will not be disappointed should you decide the tradeoffs are not worthwhile. The responsibility of giving you the information you need is his; the decisions are yours. Why not contact our office to arrange an appointment today?
Here is an overview of some the risks and results of woman to man surgery.
Top Surgery Risks
Surgery of any kind involves risks. You'll be familiar with most of them already. Some of the most common include infection, hematoma (blood build up), seroma (fluid build up) and excess swelling. Rarely, blood clots and tissue loss can occur. We will be sure you understand what you can do to minimize risks prior to your top surgery. Most complications that do arise are minor and resolve themselves or can be easily treated.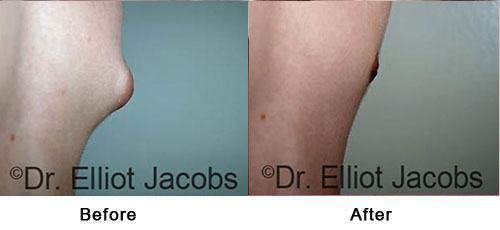 Specific risks of concern to FTM surgery patients include:
Adverse scarring: Even when having a full mastectomy, most people find their scars fade over time and become thin, light lines. The scarring process is inherently unpredictable, however, and it's possible you could end up with scars that are bumpy or wider than expected. If so, they can be treated with injections or minor surgical repair if desired.
Loss of sensation: Most nerve endings generally reattach during the healing process. Some patients find sensation is permanently diminished, either in spots or in a more widespread manner. The more extensive your incisions, the higher the risk.
Regret: Patients undergoing female to male surgery occasionally ask what will happen if they regret the decision to have breast reduction. While it's theoretically possible to use breast implants to rebuild a chest-just as it is for women who undergo mastectomy for cancer treatment – you should consider FTM top surgery to be permanent. Results from a revision procedure would never give you the look you had prior to surgery.
We'll advise you to try all your other options if you haven't already, including binding and simply dressing in masculine clothing, before committing to surgery. We will ask you whether you're on hormone therapy and about all the other measures you may have taken to progress in your journey from woman to man. Surgery is a big step, and we'll want to be as sure as you are that it's the right one for you.
You can help reduce surgical risks in two ways. Your choice of plastic surgeon is all-important – be sure to select a plastic surgeon who is certified by the American Board of Plastic Surgery. This way you'll know that he or she has formal training in plastic surgery and has undergone a thorough peer evaluation process. Second, follow pre- and post-surgical instructions carefully.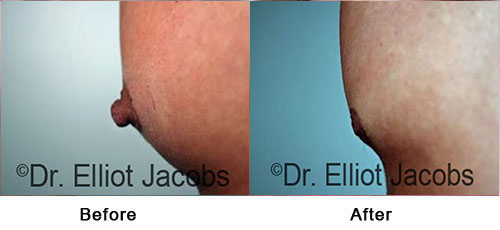 Your Results
As your results begin to emerge during recovery, we will be excited to hear your reactions. We are very aware that breast surgery is not a simple cosmetic procedure for a transgender individual; it's an event that will impact your life in a profound way. We look forward to learning about the experience from your perspective.
We can say that patients who choose FTM top surgery are most often very satisfied with their results. Having identified as male for some time prior to their procedure, having undergone counseling and become increasingly certain that surgery is the right step, patients are relieved to finally achieve the silhouette that conforms with their true identity.
Realistic Expectations
One key ingredient in your satisfaction is realistic expectations. After surgery, you will not have feminine-looking breasts any longer. But Dr. Jacobs will not remove all breast tissue, as some breast gland and fat are needed to build masculine contours.
Be sure you are not expecting to look automatically more muscular or have a more masculine appearance in other ways, however, as the change in your appearance will be confined to your chest. Some patients choose additional procedures to support their transition. A good example is liposuction to slim hips, buttocks and thighs. It's likely we can combine FTM top surgery with another procedure to save you money and recovery time – just let us know your goals.
As you can tell, there's much to discuss your expectations with Dr. Jacobs during your consultation. Give us a call to get started now: 212-570-6080.