FTM Top Surgery: Techniques and Options
Since you are researching gender confirmation options, it's a good bet your journey is underway. Perhaps you're in the information-gathering stage, learning about all the options in transitioning from female to male. Or maybe you're further along-having begun counseling and hormone therapy. If this is the case, your next goal might be top surgery. New York City's Dr. Elliot Jacobs is ready to meet with you, share information and help you understand what the procedure entails.
As a board certified plastic surgeon in Manhattan, Dr. Jacobs is a great choice as a partner for you in this important change. You can probably guess that he performs breast reduction surgery for women, but you may not know that he is widely regarded as the "go-to" cosmetic surgeon for male breast reduction as well. With 30 years of experience serving people of both sexes, he is ready to deliver the results you're seeking.
If you're ready to learn more about FTM top surgery, schedule a consultation with Dr. Jacobs now. There will be no pressure to make a decision – we understand that breast surgery is a big step. If you decide female to male surgery is right for you, our entire staff will help you throughout the process. We look forward to meeting you!
Achieving Great Results
During your consultation, Dr. Jacobs will work with you to determine the best technique for reducing the size of your breasts. The strategy will focus on creating a more masculine looking chest while minimizing incisions and scars. Factors involved include the size of your breasts, your age and the quality of your skin. Here's a look at the approaches we most often use.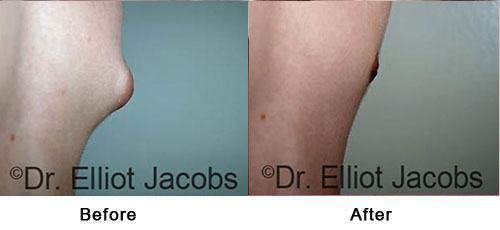 Reducing Smaller Breasts
Patients who are young, with good skin quality and small breasts, may be candidates for an approach similar to the way we often perform gynecomastia surgery to reduce man boobs. This means a tiny nick on the side of the chest allowing liposuction to eliminate much of the fat. In addition, we make a peri-areolar (part way around the areola) incision to allow us to remove gland tissue. The skin will spontaneously tighten and the areolar diameter will shrink as well.

This method produces very small, nearly invisible scars after healing, and thus is a popular choice for the right patient. If you have been on testosterone for a time, your breasts may have already shrunk on their own. This may increase the chance that this is the right technique for you.

Options for Moderate Sized Breasts
If your breasts are medium sized and your skin is fairly elastic, you and Dr. Jacobs can decide together how to proceed. One option is to choose the minimal scar approach, then wait several months to see how much the skin tightens up. If your skin has not bounced back as much as you would like, we can perform a second procedure. The benefit of waiting is that skin will have tightened at least to some extent, so smaller incisions would be needed to remove any remaining excess skin.

You may also opt for the approach we use for larger breasts, particularly if you are older and your skin quality isn't the best. Fortunately, Dr. Jacobs' experience with thousands of male and female breast reduction patients will enable him to give you a reasonable idea about what you can expect prior to surgery.

Patients with Large Breasts
Individuals with large breasts who seek transgender surgery will usually realize the best results with an approach akin to mastectomy – a procedure that calls for scars in the inframammary fold below the breasts. This technique allows for removal of fat, breast tissue and extra skin, plus relocating the nipples higher on the chest.

The resulting scars are larger than those created by the procedure for smaller breasts, but they do fade in time. One consideration is that nipple sensation may change-Dr. Jacobs will discuss this with you to help you make decisions.
Nipple Reduction
Female nipples and areolas tend to be larger than those men have, and some patients opt to have one or both surgically reduced. If you're interested and your breasts require mastectomy, nipple/areola reduction can probably be performed at the same time. If you are having minimal scar surgery, nipple/areola reduction may be better performed later in a simple outpatient procedure.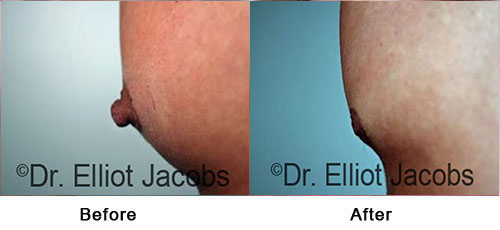 Ready to Find out More?
One thing to understand is that Dr. Jacobs can not remove ALL your breast tissue. Everyone has some measure of fat and breast gland under the skin-even the most masculine looking guys. To get a sense of his skill in creating male breast contours, you may want to take a look at some of his before and after male breast reduction photos. Even though your breasts may be larger than many you will see in the "before" photos, you can get a sense of what to expect.
"Realistic expectation" is an important concept in planning for any cosmetic procedure, and Dr. Jacobs is adept at helping patients understand what their final results are likely to be. That way, men and women who work with him are equipped to make sound decisions.
Call us at 212-570-6080 to schedule a consultation for female to male surgery. If you're not quite ready to take this step and you'd like to start a conversation online, contact us with our short email form. We hope to talk with you soon!